This came in my mail a few days back.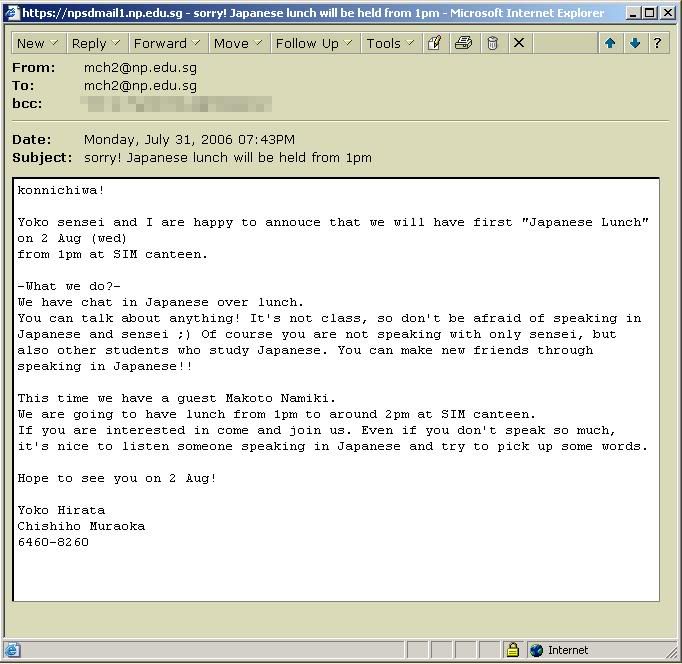 Lunch with my Japanese sensei(s) (teachers) together with other students and conversing in Japanese! That's pretty cool. I decided to join in. Calling up my classmates from my Japanese class, the three of us turned up at the lunch.
We met Yoko-sensei (My sensei for Japanese Basic A/101) & Chishiho-sensei (My sensei for Japanese Basic B/102) outside the cafeteria before proceeding in. There were 3 other students from the Intermediate A/Basic 103 class (All males) , and Makoto-kun, who's our guest.
Sidenote: When we take Japanese language as our enrichment programme, We start from Basic A/103 followed by Basic B, thereafter Intermediate A, B and finally Advanced A, B.
Int A Guys: "あの 先生、 ゲストはどこにですか?"
Chishiho-sensei: "あら、それわまことーくん。"
Int A Guys: "女ことじゃない?"
Chishiho-sensei: "女ことじゃないて。"
Int A Guys: "ああ。そか、残念ですようね。"
The guys from Int A reckoned that Makoto was a girl till Chishiho-sensei introduced him. We had a good laugh at that.
Makoto-kun is actually (half) Japanese I think. He is in Advanced B. Makoto-kun's Japanese is rather fluent. He had home-stayed in Osaka, Japan with a family and is still in good contact with them. A Int-A dude asked for Makoto-kun's email address.
We (They) talked about lots of stuff, from Makoto-kun's homestay to the number of years our sensei has been in Singapore. Makoto-kun did most of the talking and I listened to their conversation quietly. I was able to understand most of their conversation, despite being in Basic B. It's probably the watching of J-dramas/Anime and reading of 'Someday's Dreamer". Vocabulary is utmost one of the most essential thing to know in order to converse properly in Japanese I reckon. That would add a lot more flavour in the conversation.
I asked Yoko-sensei about what qualifications are needed when studying in Japan. She replied that if you're taking a diploma of the same level as you are at now, you will need to study Japanese in Japan for a year. That is what I recall. I will have to check with Chishiho-sensei about this, and ask if she has Makoto-kun's email address.
We ended the session at about 10 minutes to 2pm and I headed back to my block for my afternoon classes.