This is the first convention that I have attended in Melbourne. 3rd convention overseas thought :)
I'll try to post as much as I can remember, as it has been a month since the con.
Got to search for the goodie bags and the membership tags. Probably threw them in some dark corner of my room.
The pictures below are not taken by me, but by Mark <Link> using his Canon DSLR Camera.
Pictures below are resized to be 'broadband friendly'. Each original image would be around 2-4MB. Resized and compressed using irfanview. You can see the artifacts on teh pictures thought.
Total size of original images: 137MB
Resized: 8MB
Day 2 and 3 pictures are in thumbnails, so click on them to view a bigger and meaner image.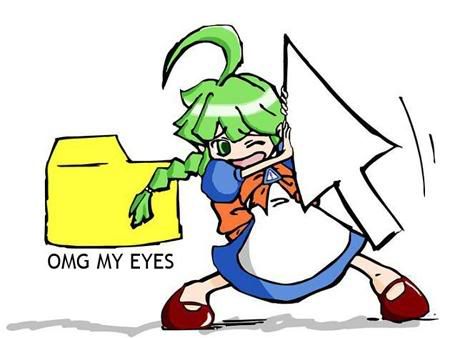 This may contain one or more OMG MY EYES pictures. You have been warned. :)
Now lets let the pictures do the talking :).
Day 1
Pepper-chan, Manifest official mascot.
This cosplay is actually rather good. Too bad it's blurry.
Naruto cosplayers? They played a few songs to entertain us.
No idea what anime/manga/game series it is from.
I am somewhere in the crowd :)
There wasn't much to see or take on day 1 as registrations started 2 hours later than scheduled… which means everything had to be pushed back and standing for 2 hours in cold weather isn't fun. Bad organisation huh. We bought the friday + weekend membership tags, which costed 35AUD.  There was nothing much to do on day 1, except anime screenings and visiting the traders area.
Day 2
Well, since I didn't take these photos, I can't really explain much except for uploading them and you guys to view and imagine what happens. I was mostly hanging out in the trader's area, gaming section and anime screenings. The Riona cosplayer is rather decent :)
Day 3
More cosplays. The cosplay event was the biggest. Too many people turned up for it, so they had to shift people in the videogames room to somewhere else.
Day 3 – Cosplay Chess
Cosplay chess was held just outside the traders area/registration area. It basically involves cosplayers acting as chess pieces (by holding onto cardboard pieces with their title "pawn" "bishop" "Knights" etc.) During the course of the game, when let's say a bishop attacks a pawn, the cosplaying attacking would have to do the actions of the anime/manga/game character they cosplay.
Overview
Manifest 2006 was rather average, thought much bigger in size as compared to the ones I have been. The venue chose was okay (Melbourne University). However I do feel that it was rather disorganized (registration was 2 hours late). It could have been held in a exposition hall or something. There wasn't much variety in the trader's area as well, with most vendors selling the same stuff.
Despite these, I think that manifest was rather fun(?). It was my first going to such a big event. I do not know if I will be down for any more manifest conventions :/ The cosplay events was definetely an eye opener for me (OMG MY EYES). There are a lot more cosplayers and yeah. People are more open and everyone had some fun in one way or another.